Our Rewards Program
Loyalty Member Program, Featuring iBuck Rewards
At iPull-uPull Auto Parts our customers love our Loyalty Member Program with iBuck Rewards. Membership is FREE and the benefits start immediately. Become a member today by signing up online or in person.
Sign Up For Our Loyalty Rewards Program!
Membership is FREE and benefits start immediately.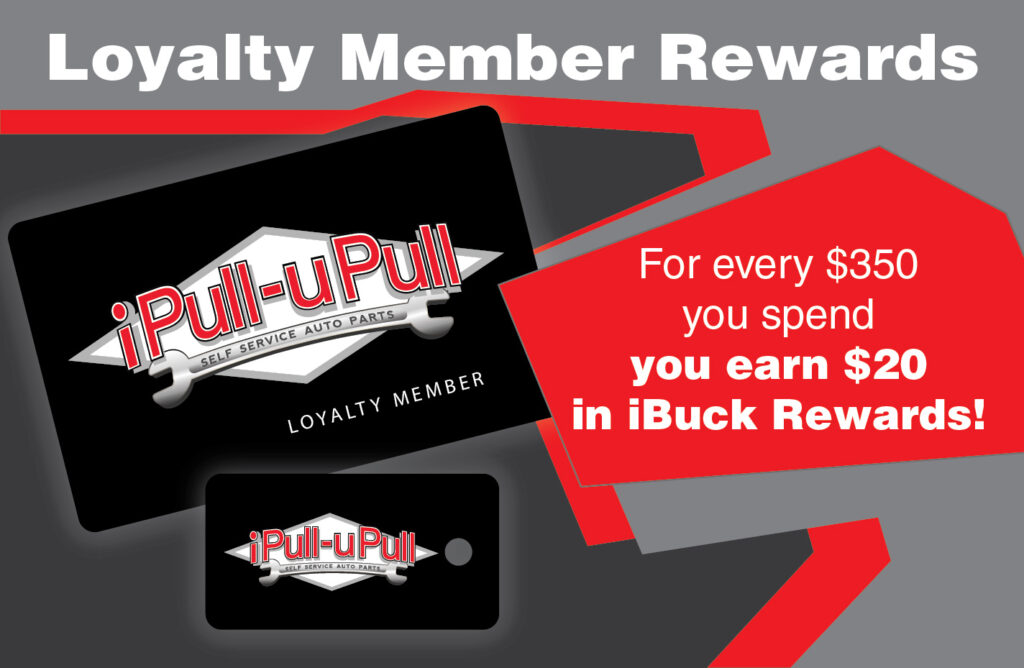 Membership Benefits
Become a Loyalty Program Member For FREE!
With our loyalty program membership you will receive:
Receive a weekly TEXT message with specific specials only available to our Loyalty Program Members
Discounts on entry fees
Earn points on every dollar spent with us…For every $350 you spend, you will receive $20 in iBuck Rewards
Use the iBucks towards Parts & Labor purchases during select redemption periods throughout the year
Receive early access to VIP events
Receive early access to fresh inventory
Receive a convenient TEXT message when you have earned iBuck Rewards
Ask an iPull Team Member to sign you up today It's that easy & it's FREE!
*iPull-uPull Auto Parts has the right to change, modify or terminate the iBuck Rewards Program at any time without notice and without liability to iPull-uPull Auto Parts. See store for details. See Terms and/or Privacy for more information.
Loyalty Member iBuck Rewards Program – FAQ
How do I sign up for the iBuck Rewards Program?

Simply go to your local iPull-uPull location and an iPull Team Member to sign you up. It's that easy.
How do I receive my membership card?

At the time of sign up, an iPull Team Member will hand it to you after you are registered in our system.
Are there eligibility requirements to be an iBuck Rewards Program Member?

You must be 18 years of age or older to qualify.
How do I earn points?

You earn points on every qualifying dollar you spend with us. $1 Spent = 1 Point. For every $350 you spend, you will be eligible for $20 in iBuck Rewards. Qualifying purchases are parts sales, services and thrift store purchases. Purchases that do not qualify for points are purchases paid with iBuck Rewards, sales tax, state fees, shipping charges, delivery charges, restocking fees, commercial or industrial purchases, rebuildable vehicles, bulk buys or purchases, core charges, environmental fees, returns and certain items that are excluded in particular promotions. See store for details.
When will I receive my iBuck Rewards?

Points will be totaled quarterly and iBuck Rewards will be available 90 days from the end of the previous quarter. iBuck Rewards will be available in $20 increments/350 point increments. Point balances that do not equal 350 will be rolled over/added to the next quarter.
How do I know if I have available iBuck Rewards?

You will receive a TEXT message on the cell number you provided when you signed up for the Loyalty Program. The TEXT will tell you that your iBuck Rewards are available. You will then have 90 days to come in and redeem them for your official iBuck Rewards Certificate.

**Your iBuck Rewards Certificate will expire 180 days from the date it was issued.
How do I redeem my iBuck Reward Certificate?

It's easy! At check-out, show your iBuck Rewards Certificate to an iPull Team Member and your qualified purchase will be credited the amount of iBuck Rewards that you have earned. You must have at least $20 available to redeem.
What are iBuck Rewards eligible for?

iBuck Rewards can be redeemed for any parts purchase. iBuck Rewards are not redeemable for cash and have no cash value.
What if I return my purchase made with iBuck Rewards?

For the portion of the purchase made with iBuck Rewards, you will receive store credit.
When do iBuck Rewards expire?

iBuck Rewards Certificates expire 180 days from the date the certificate was issued.
Do I have to spend the entire amount of my iBuck Rewards when I redeem?

Yes. iBuck Rewards must be used in $20.00 increments. No cash back or iBuck Rewards Points will be credited for any unused portion of the $20.00 increment.
What if I lose my iBuck Rewards card?

The next time you are in the store, just ask an iPull Team Member for a replacement card.
What if I change my phone number that I used when I signed up to become a Loyalty Member?

Please notify an iPull Team Member right away by phone or in person and they will update your account with the new number.
Can members transfer points to a relative's or friend's account?

No. Points are for the card holder only and may not be transferred to another account.
I forgot my iBuck Rewards Card. Can I get a credit for my purchase on another day?

No problem. An iPull Team Member can look up your account by name, cell phone number associated with your account at the time of sign up or your loyalty number. Please be prepared to show a valid picture I.D.
Can I get iBuck Rewards points for past purchases?

No. You must be a Loyalty Rewards Member to begin earning points. You begin earning points from the moment you sign up to become a member.